Abstract
High pressure grinding roll has been widely popularized and applied in metallurgical industry and mining industry in the industry-advanced countries around the world. However, its application in our country is still in infancy. This paper is going to briefly introduce the structure and working principle of high pressure grinding roll, its advantages such as high efficiency, energy conservation and environmental protection, and the reach study of grinding iron ore.
Introduction of high pressure grinding roll (HPGR)
High pressure grinding roll is a kind of advanced grinding equipment developed by Germany scientists in the 1980s. It was popularized soon in USA, German, Russian, Brazil, Chile, Australia and other advanced industrial counties because of simple structure, high production efficiency, environmental protection and energy-saving and advanced working principle. Our country introduced the manufacturing technology of HPGR from KHD, a Germany Company. It was firstly applied in the grinding of cement clinker which achieved obvious effects. So, the machine was widely promoted and applied. Figure 1 is the main frame of HPGR produced in domestic.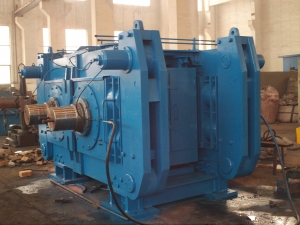 After more than twenty years of production practice and learning from introduced technology, high pressure grinding roll has formed product seriation and been applied in national large-medium size cement enterprises for grinding cement clinker. It has been proved that HPGR manufactured in domestic can replace imported ones completely after years of production practice. In metallurgical industry, high pressure grinding roll has been successfully used in the pelletizing feed production of grinding fine iron in sintering plant for recent years which also achieves very good results. However, it is still no successful examples to use domestic high pressure grinding roll for comminuting metallic ore in the area of mineral separation.
Mechanism and structure of HPGR
(1)Mechanism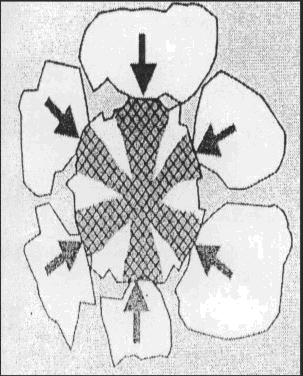 High pressure grinding roll is designed according to the principle of inter-particle breakage by huge pressures. The pressure is from a pair of counter-rotating rolls with the same diameter and rotary speed. One is fixed while the other is allowed to shift front and back slightly. Pressures are worked on the bearing supports at the both ends of floating roll through high pressure cylinder. While HPGR is operating, materials are entering into the crushing cavity by its gravity from stock column bin, and then are bitten by the two counter-rotating rolls, forced into compacting cavity. Duo to the gap reduction between two rolls, compression force increases. Material particles are compressed by roll surfaces directly but also other particles, leading to material particles compacted and pre-crushed. When rolls are rotated to the horizontal center line, pressures reach to peak. Particles are crushed in different degrees. With the rotation of rolls, materials are discharged in the form of tablets. Figure 3 displays the grinding process of material between rolls.
(2)Structure of HPGR
The following is the composition of HPGR. Feed device is mounted on the rack of frame. Compression rolls are mounted on the rack bed supported by bearings. Each roll has independent drive system. Energy is delivered to compressing rolls through universal coupling, safety clutch and planetary gear reducer. Centro-lubricating system supplies lubricating oil and grease to all bearings. HPGR adopts PLC smart control designed with field control, central control chamber control, hand control and automatic control, watching all work procedures and machine operating dates automatically through the central control chamber.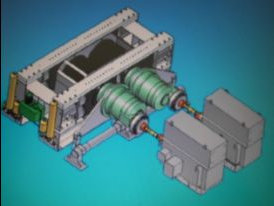 Wear parts of HPGR is mainly tyre with stud around the compressing rolls. Tyres are manufactured by wear-resistant alloy steel. Studs adopt tungsten carbide material.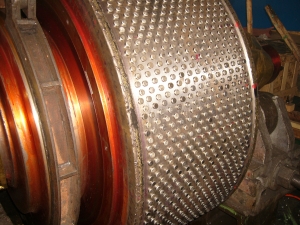 While HPGR is working, wear-resistant performances of rolls depend on the formation of auto-genous wear protection layer when materials are fulfilling the zones among studs. Roll surfaces are protected without contact with ores directly .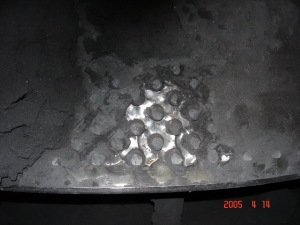 Therefore, tyres' service life can be extended effectively. Tungsten carbide studs have high hardness and great abrasion-resistant performance but are brittle and easily chipped or broken. Hence, it is inevitable to be broken or damaged during operation. The assembly of studs and roll surfaces of imported machines adopts interference fit so that studs can be repaired if broken.
The benefits of HPRG
(1)Compared to the same kind of equipments, high pressure grinding roll is lower energy-consumption because of its working principle that inter-particle breakage makes particles contact more and interact much to utilize energy in high ratio. Therefore, its breaking energy-consumption is apparently lower than common single particle breaking equipments' or milling equipments'. According to the production practice at home and broad, for most of ores, their breaking energy consumption is 0.8-3kwh/t. if the machine are mounted with the following-up equipments, the total grinding energy consumption can reduce by more than 40%.
(2)It can process materials with relatively high moisture. HPGR expects the feed can contain some moisture during operation so that would be better to form the sturdy auto-genous wear layer to improve its working condition and roll surfaces' service life. For instance, feed moisture content can be up to 10% when grinding iron ore for briquetting. When grinding iron ore or precious metal ore, the foreigner recommended moisture content should be no more than 8%.
(3)It can improve the recovery rate, grindability and capacity of products in the following-up process. Based on the picture 6, particles processed by HPGR, have a lot of micro-cracking. Particles without micro-cracking are having internal stress due to undertaking pressure. Therefore, these particles re-processed in next step such as entering into ball mill can be grinded and levigated easily, improving grindability greatly and productivity of following-up process.
(4)The machine has less occupation and less civil engineering investment. HPGR has compact structure, less weight, small outline size; its grinding and crushing are occurred between two rolls. Produced static pressure are absorbed totally by the rack with less force on the foundation even none. So, compared to the same kinds of grinding equipments, HPGR does not need very sturdy foundation which can save a lot of civil engineering investment.
(5)The machine has less vibration, lower noises and less dust. During its working, grinding relies on the static pressure. When grinding, materials are in a closed cavity between rolls and feed device. Therefore, there is no any impacting phenomenon and material splashing phenomenon. That is why vibration, noises and dust are less.
(6)Its operating rate is high, up to over 95%. HPGR adopts the advanced auto-control and auto-inspection system to monitor and control the main indexes such as temperature, roll gap, pressure, feed volume, and power which could guarantee the normal working of main frame. Meanwhile, good anti-abrasiveness of roll material and advanced roll surface can prolong the effective working time greatly.
(7)Wearing parts can work longer. The wearing parts of machine are tyres over rolls. The auto-genous wear layer can protect roll surface to not contact or impact with ores. Abrasion is mainly occurred on the tungsten carbide studs so that service life of roll surface can be prolonged greatly. Moreover, if tungsten carbide studs are broken partly, broken parts can be repaired and replaced. In that case, service life of roll surface can be up to 10000-20000 hours. The lateral plate at the bottom of stock column adopts new composite material, and its service life can be ensured to use more than one year. The plate has small volume, only a few kilograms, which is also easy to replace.
The Application of HPGR
High pressure grinding roll has been widely used in our country for more than twenty years since its manufacturing technology was introduced from Germany. Its application in building material industry is the most successful and common, and also localization rate is the most higher. So to speak, domestic large-medium cement companies are all equipped with homemade high pressure grinding roll machines and achieved very well economic benefits and social benefits. At the beginning of 20 century, HPGR has been used in metallurgical industry. Wuhan Iron and Steel Corp. Chengchao pellet plant introduced a unit of high pressure grinding roll from KHD Humboldt Wedag International AG to use in the feed of grinding iron ore pellets which also achieved very well results. Liuzhou Iron and Steel Company pellet plant, Kunming Iron and Steel Holding Corporation pellet plant, Handan Iron and Steel group Corporation sintering plant and Shagang Group Corporation sintering plant were introduced HPGR successively with different models and expensive price to use in grinding iron ore feed. In 2003, Hangzhou Iron and Steel Group Company asked to cooperate with Citic Heavy Industries Corporation to research and develop high pressure grinding roll machines used in grinding iron ore feed to save foreign exchange for the country. After more than one year of tests and studies, the first domestic HPGR used in metallurgical industry were finally produced successfully in 2005. After many years of production practice, its technical properties had reached the level of imported equipments.
Now, homemade HPGR is successively used in domestic sintering plants such as Lengshuijiang Sintering Plant, Tianjin Rongcheng Iron and Steel pellet plant, and Shougang Changzhi Iron and Steel Corporation Sintering Plant. HPGR's application in mineral processing industry was beginning at 2004. In this field, the first mover was Magang Group Nanshan Mine Company Aoshan Mineral processing plant introduced the first HPGR to use in find grinding iron ore from Germany Köppern Company. Since it was put into production in 2006, product quality, capacity and cost were all achieved well results due to its good functions and properties. Then, Many mineral processing plants such as Shanxi Jinduicheng Molybdenum Group Baihualing Mineral Processing Plant, Sijiaying Mine Company Iron Processing Plant, Shandong Gold Group Sanshan Island Gold Ore Processing Plant, Magang Heshangqiao Iron Processing Plant and Huoqiu Zhangzhuang Ore Processing Plant and so on, were introduced different models of high pressure grinding roll one after another from Germany which also caused national much foreign exchange to flow into foreigners. Meanwhile, it also aroused the enthusiasm of national manufacturers to research and exploit domestic HPGR used in mineral processing. We believe that domestic high pressure grinding roll would be applied in mineral processing industry more and more in the near future.
Grinding Test of Iron Ore
Our company begun to research and develop HPGR applied in breaking ore in 2008 and produced a unit of GM52-14 HPGR for tests. We had done many tests for mineral processing plants such as Shougang Tonggang Group Concentrator, an Indonesia Concentrator and Henan Dongda Concentrator, providing reliable technical base for model selection, drawing up production technological process and design products.
In the following, we just take Indonesia Iron ore breaking as an example to introduce the test of grinding test:
(1)Task
Authorized by a Indonesia mine company, we did test to process iron ore from their mine by high pressure grinding roll.
(2)Original condition of iron ore
A. Ore size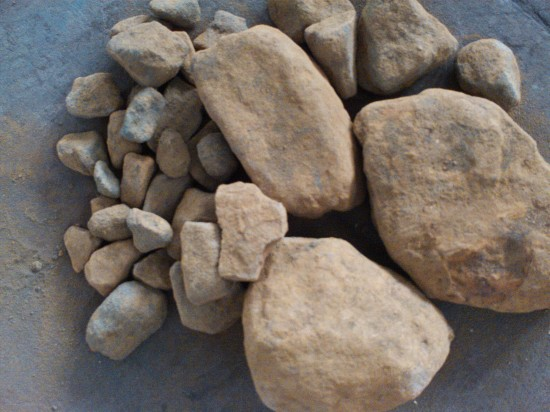 Iron ore provided by the Indonesia mine was different from 20mm to 150mm. Iron grade and composition inside of ore were not clear. Ores were expressed to our company by air .
B. Moisture content of iron ore
Before delivery, moisture content was about 11%. Due to international express, customs clearance and inspection and other tedious procedures, it took about one month to send ores from Indonesia to us. Besides, due to the continental climate, moisture content of ores was only 3.8% by test after arriving at our company.
C. Hardness of iron ore
The delivered Ore hardness was different. For these soft ones, protodyakonov coefficient of rock strength was only 4 to 6, which was easily crushed by hand hammer. For hard ones, it was 13 to 17 grades which were different to be crushed.
(3)Test requirements
A. Moisture content of ore
To recovery the moisture content of Indonesia ore, we put ores with moisture content 3.8% into water for ten days (see picture 2). Then its moisture content was 11% by test which was almost the same with original ores before delivery. That would ensure test was reliable.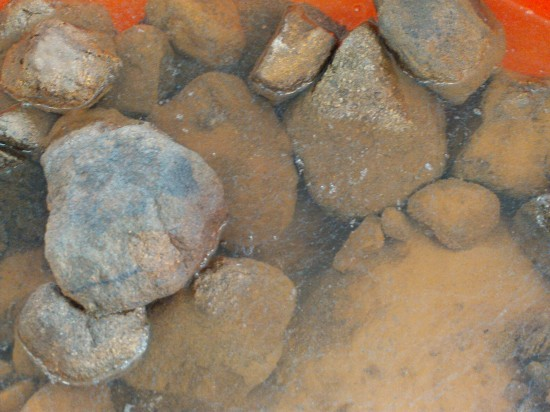 B. Ore sizes
According to the technological process of Indonesia, feeding size should be 30-40mm for HPGR. So, ores were crushed based on the above requirements with little crushed aggregates.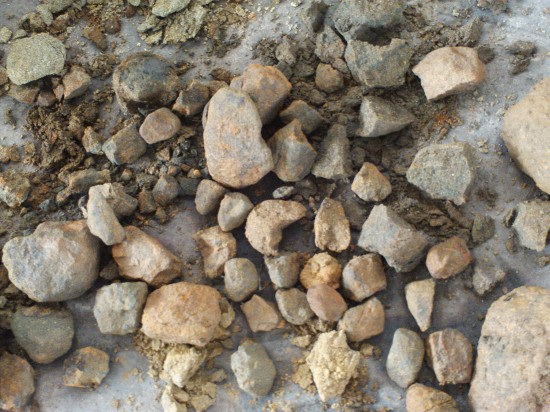 In the test, moisture content of ores had two kinds, the lowest 3.8% and highest 11%. It took 60kg ores for this test. And 20kg was ores with 3.8% moisture content and 40kg was with moisture content 11%.
Particles processed by HPGR are classified according to their size to see the result of grinding.
(4)Test purpose
Research the breaking results of Indonesia iron ore processed by HPGR one time and the application of equipment;
The max. moisture content of materials processed by HPGR should be lower than 10% at home and abroad. Regarding to the Indonesia iron ore, its moisture content was higher than 10%. Whether was it suitable to be processed by HPGR? That was also the discussing topic in the test;
All processing parameters and technical indexes of HPGR used to process Indonesia iron ore.
Check the microscopic state of final products from HPGR.
(5)Test equipment
GM52-14 High pressure grinding roll trail machine;
φ200mm series of standard screen;
JA5102 electron balance;
101-1Ttype dryer;
500kg platform scale;
Small-scale hammer crusher for trail;
Electron microscope.
(6)Test parameter
Roll diameter : φ520mm
Roll width : 140mm
Roll rotary speed : 9-15rpm
Test pressure : 10Mpa
Original gap between rolls : 3mm
(7)Test result
Two kinds of ores: moisture content 3.8% and 11%. Two kinds of ores were processed separately by HPGR. The final products were flake material cake from the both kinds of material with different size. There was no power material;
Regarding to these flake final products, there were no big differences between high moisture ore and less moisture ore, no matter size or shape. Flake width was about 50mm, and thickness was less than 12mm. while there were differences between compactness and hardness. Flake with lower moisture was harder and more compact, compared with the high moisture material. Both flakes were hard and difficult to be crushed by finger.
Ore size was very fine after flake particles were crushed by small-scale trail hammer crusher. Its size was as following after screening:
☆particle size ≤1mm about 84%
☆particle size ≤2mm about 7%
☆particle size >3mm<5mm about 9%
Micro-cracking was found inside of ore products processed by high pressure grinding roll under the high-power microscope except the obvious macroscopic changes.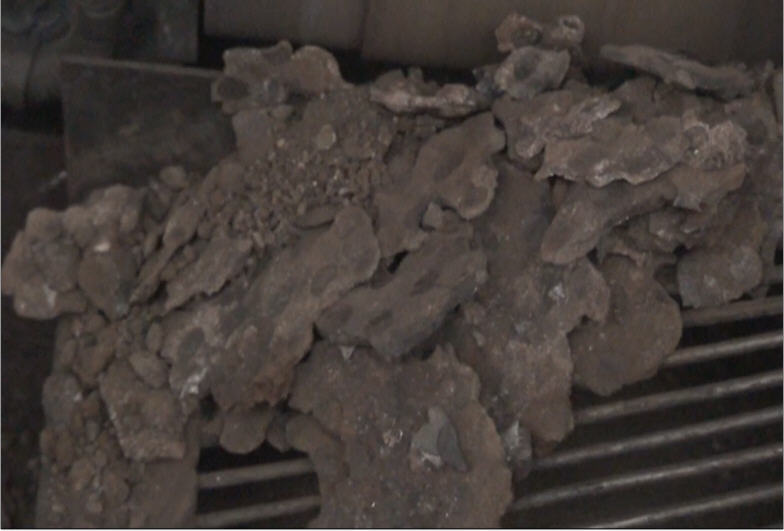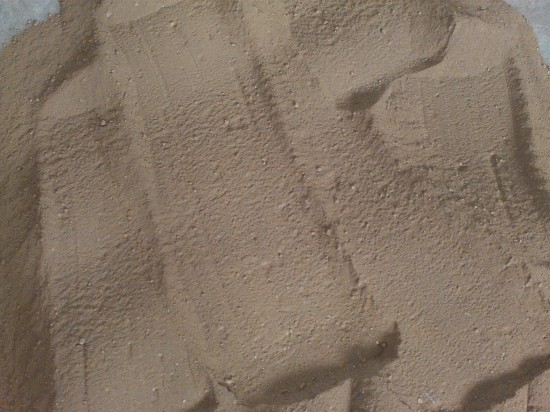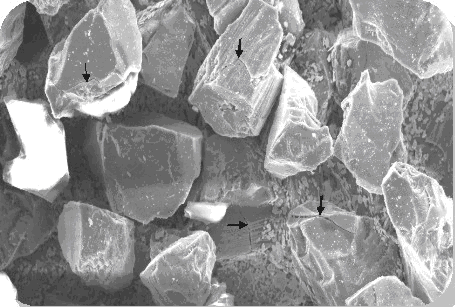 (8)Test result analysis
Ores with different size were discharged in the form of flake after processed by HPGR. Usually flake cakes were easily broken up. However, this Indonesia iron ore was very harder. We preliminarily analyzed there was viscous objects inside of ores since we did not test the composition of ores.
The test that Indonesia ores with over 10% moisture were processed by high pressure grinding roll machine was satisfied no matter size, capacity or the adaptability of HPRG equipment. Therefore, regarding to the problem of moisture content of HPGR feed, we could not lump under one head. We'd be better make conclusion after test based on the different materials. So, materials with the high moisture content could be processed without expensive dry process which could improve capacity greatly and save huge production capital.
Matrix of iron ore was dissociated even powder after processed by high pressure grinding roll. Ores with high grade of iron became fine particles. Some particles were proofed with a lot of interior micro-cracking after test.
(9)Test Conclusion
(a) The test proved that was right to select HPRG as the secondary crushing equipment for the special Indonesia iron ore. The user must gain huge economic and social benefits;
(b) High pressure grinding roll can process materials with moisture content over 10%. But it would be better to make decision after test for different materials.
(c) The best processing date of iron ore can't be confirmed due to less material in the test. However, it was proved that high pressure grinding roll was completely suitable to process iron ore.
(d) Iron ore processed by HPGR had micro-cracking inside which could improve productivity of the following work and cut down energy-consumption effectively.